Document Vault Blog
Searching through your data room content
A Document Vault data room provides sophisticated tools for searching through the content, giving quick and easy access to the document you are looking for.
In business, time is money and finding the information you want is paramount.
A Document Vault data room provides a number of methods for users to find the data they are looking for:
First of all, the Browse Documents tree provides intuitive navigation through the document archive, with the ability to click up and down through the folders to find the document you are interested in. In the case of M&A transactions, where a Document Index already exists, this is often all that is required.
A simple Search box allows users to type the words describing the documents they are looking for and present this is as a list. All documents are indexed on being added to the data room, so this is a full-text retrieval function.
A more detailed Meta Search gives more structured access to the data but requires the meta data to be added to each document either on upload or at a later time. This is particularly valuable where the number of documents is very large and/or the content is of a specialist nature.
The Tag Cloud option allows the user to add simple meta data during upload which then can be used to provide a "weighted map" of relevant search terms which can then be clicked on to find the relevant documents.
Finally, the Document Index function gives an up-to-date report on all the documents in the data room sorted by folder and file name, giving you the ability to examine quickly the list of documents which have been uploaded.
Example Tag Cloud: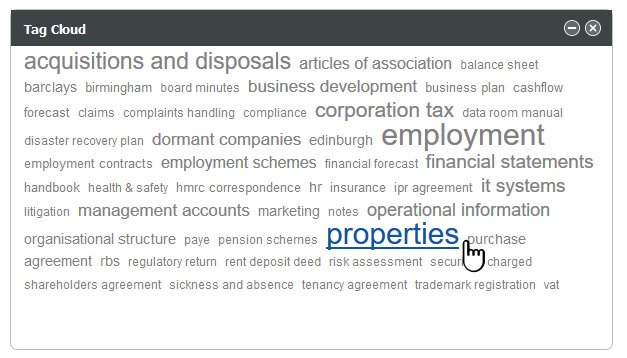 Our data rooms come with powerful tools for accessing the data. Sometimes our clients come to us with requests for something new. So tell us what you need and we will be happy to advise on what is possible.
05 February 2018
Leave a comment
Request Further Information
Click below to request more information about our virtual data rooms or call Freephone 0808 221 0440 to speak to a member of our team.