Virtual Data Room for Mergers and Acquisitions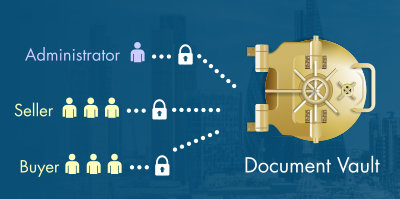 Document Vault's core product is the M&A Data Room, which takes the place of the traditional paper-based data room, a secure facility where multiple parties involved in the due diligence process (lawyers, bankers, accountants and management consultants) can view documents relating to the sale or acquisition of a company prior to making an investment decision about that company.
Our product is a secure document management system which enables organisations to upload document libraries which can be accessed by authorised users from anywhere in the world. The M&A Data Room is ideal for legal and financial organisations carrying out due diligence on the sale of a company.
The M&A Data Room is easy to use. There is no need to install special software - all you need is Internet access and a web browser. However should you require assistance, our friendly team will be happy to help you through the entire process of data room setup, assigning user groups and permissions and inviting staff and third party organisations to the data room.
M&A Data Room Packages:
The M&A Data Room is available in four different packages:
See M&A Data Room Price Plans.
Data Room Security
Our system incorporates the highest levels of security with only authorised personnel being able to access the system.
All data is encrypted before being stored, and protected by 256-bit SSL (Secure Socket Layer) encryption during transfer to and from the data room.
A full audit trail of documents viewed/downloaded is made available on a person by person basis.
The system also offers an Information Request Centre which allows interested parties to liaise with the project management team, make requests for information and see fully documented replies to their requests, without the need to send this information through unsecured methods such as email.
Read about Data Security.
Data Room Setup
We offer same-day or next-day setup for all M&A Data Rooms. For accelerated mergers and acquisition deals, data room setup takes no more than four hours.
Read about Data Room Set Up.
Main Features of our M&A Data Room
Secure Document Repository - a structured directory of documents (Microsoft Word, Excel, Adobe PDF format etc), which can be maintained by your staff and viewed or downloaded by authorised visitors to the website.
Dynamic Document Index - an automatically generated numerical index of the documents in the data room, sorted alphabetically by folder and file name or by creation date.
List of Authorised Representatives - A full list of all authorised users of the data room, with a full audit trail of documents viewed/downloaded.
Information Request Centre - a facility which enables interested parties to liaise with the Buyer, request answers to specific questions and see fully documented replies to their requests.
Draft Agreements - Area where draft contracts can be uploaded and viewed (on request).
Email Alerts - Send regular email alerts to users of the data room telling them which documents have been added or altered.
Find out about M&A Data Room Benefits.
For further information about any of our services, call us on 0808 221 0440 for a quick discussion or complete our online form to Request a Quotation. Document Vault Systems is known for its efficient and reliable approach to business with a strong focus on customer service.