Document Vault Blog
Tag Clouds and Intelligent meta data
Document Vault provides advanced functionality to enable you to structure your document repository in a way which will allow users to find what they are looking for quickly and easily. One of the ways in which this is achieved is by adding Tag fields to each document as you upload them. Alternatively, this can be achieved at a later date by editing the document meta data.
The key to creating effective tag cloud data is to be very selective about the words you use to describe each document, keeping the total number of options to a minimum. The system will then calculate the relative importance of each tag word and then create a "weighted map" like the one below. Clicking on any of the links will take you to a list of documents which match the search criteria.
Example Tag Cloud: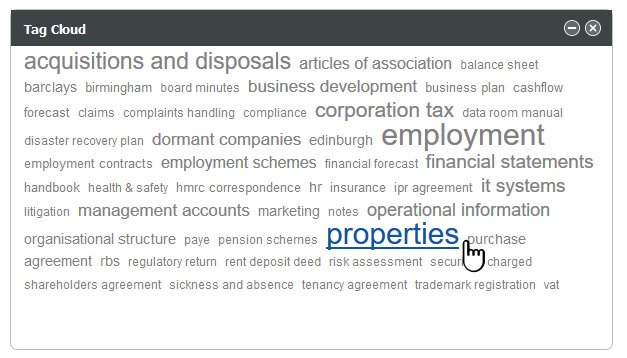 See also:
12 March 2018
Leave a comment
Request Further Information
Click below to request more information about our virtual data rooms or call Freephone 0808 221 0440 to speak to a member of our team.