Corporate Data Room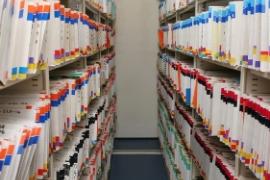 Document Vault's Corporate Data Room is a sophisticated and secure document management system. It enables you to store, index, find and retrieve any of your confidential corporate data. It is ideal for companies requiring efficient data storage and management. A typical use of our Corporate Data Room is to manage customer data, particularly where multiple suppliers are involved. See Case Study.
Once your data is entered into your Corporate Data Room, you will be able to decide who should have access to which documents, when and how. This will give you complete control. It is secure, easy to use and accessible to you from anywhere in the world 24 hours a day, 7 days a week.
Corporate Data Room Uses
The Corporate Data Room is Ideal for the following:
Company intranet, for organising and storing company prospectus, financial reports, marketing material, business plans, etc.
Collaboration on projects involving multiple people working from different locations, e.g. tenders, user requirement studies.
Remote workers/home workers who need to access confidential information in a secure and efficient way.
Organisations which have unusually high data storage requirements.
Main Features
The Corporate Data Room has the following features:
Document repository comprising a structured directory of documents, accessible through a web interface (e.g. Internet Explorer, Firefox, Google Chrome, Safari).
Sophisticated indexing and search facilities for finding and retrieving documents.
Version management – ability to store and access older versions of documents to ensure integrity and continuity of data.
Update with ease – Simple interface for uploading, replacing or deleting documents individually or in bulk.
Define user groups, controlling who can access which documents and/or folders.
Audit trail of who has viewed or downloaded which documents.
See also Corporate Data Room Benefits.
Further Information and Pricing
To request further information about our Corporate Data Room, please complete the online form to Request Further Information. Alternatively please give us a call on 0808 221 0440 to speak to a member of our business development team.
Request Further Information
Click below to request more information about our virtual data rooms or call Freephone 0808 221 0440 to speak to a member of our team.